As moms, we look forward to our baby shower almost more than anything in the world. It is a time to celebrate your precious little bundle of joy as they are soon about to arrive.
However, as your stomach grows bigger and bigger, it might be hard to find something you look and feel good in. 
So, I decided to compile a list of some of the best baby shower outfits for mom-to-be! Not only are these outfits so stylish, but they are also incredibly comfortable!
You will look and feel amazing during the day dedicated to your baby shower. Check out these awesome outfits below! 
18 Baby Shower Outfits for Mom to Be
1.Romper Baby Shower Outfit
If you aren't a dress kind of mom, there are still a lot of baby shower outfits for you! No need to wear a simple t-shirt, you can still dress up without wearing a dress! Check out this classy off the shoulder maternity romper!
This romper can be paired with absolutely anything, but also looks incredible on its own as well. You can still look classy without wearing an uncomfortable dress.
This would even work as a fall or winter baby shower outfit for mom to be with the floor length pants. Best features: off the shoulder design, support for belly, and romper style. 
2.Strapless Bumper
A bumper is a maternity romper made to fit your baby bump perfectly. This strapless bumper has a beautiful floral design, which would look so good for any summer baby shower!
The top is a flowy strapless design and a form fitting bottom. The fabric is stretchy so you can combine comfort and style during your baby shower. Best features: stretchy, strapless, and jumpsuit. 
3.Ruffled Maternity Jumpsuit
Jumpsuits are always a great option if you don't want to wear a dress. This jumpsuit will look flawless for any mom!
It has a cute, ruffled pattern on the sleeve and side. The pant legs are nice and roomy to help you walk with ease.
This jumpsuit is available in a few colors so you can find the perfect fit for your baby shower. 
The fabric is extremely stretchy and comes with a zipper in the back to help you be super comfortable for hours on end! Best features: super stretchy fabric, long flowy pants, and multiple colors. 
4.Satin Cape Jumpsuit
With this next jumpsuit, you will find a super fancy satin fabric to create the perfect baby shower outfit for mom to be.
This is a true statement outfit to make you feel and look gorgeous. The jumpsuit features cape sleeves which can help you remain comfortable during your big event.
It also has a detachable sash to accent your baby bump. You will also have two side pockets to hold items you receive or to keep your phone close by.
You will truly be the star of your baby shower with this cape jumpsuit! Best features: nursing friendly, side pockets, and comfy satin fabric. 
Baby Shower Dresses For Mom To Be
5.Off Shoulder Baby Shower Dress
With this dress, you will look all dolled up for a fancy restaurant, and all the while have on a super comfy dress.
This off-the-shoulder dress comes in a variety of colors, so you will find one to match any baby shower theme!
It is made with a soft, breathable, stretchy fabric that is so needed during pregnancy. You'll look absolutely radiant and elegant, a mom to be's dream! Beast features: stretchy material, multiple colors, and breathable fabric. 
6.Hi-Lo Maternity Dress
Many moms want to buy a dress that they can wear for years to come. This dress does exactly that. It is made with stretchy fabric, so you can fit in it throughout pregnancy and after!
It is also nursing friendly, so you can enjoy it through the breastfeeding years as well. With the high low design, you'll be able to walk to each guest without worrying about tripping on your dress! Best features: on-trend and stylish, nursing friendly, and stretchy material. 
7.Elegant Wrap Dress 
Need an outfit for date nights with your spouse and a baby shower outfit? This next dress is absolutely perfect!
It is elegant and perfect for a night out at a fancy restaurant, church service, and your baby shower!
Because it has a faux wrap, it is great for nursing your little one after they are born too. It features a simple bow to highlight and showcase your beautiful baby bump. Best features: machine washable, polyester fabric for comfort, and formal wear attire. 
8.Maxi Dress with Slits
If you don't want to show your varicose veins or swelling on your legs and feet, you'll want a maxi dress. However, some maxi dresses can still be uncomfortable and extremely hot.
With this dress, it is a maxi dress with short sleeves and slits on the sides so you can easily walk and get a breeze in case you get overheated! Best features: made in the USA, stretchy fabric, and leg slits. 
9.Color Block Maxi Baby Shower Dress
You'll love this sleeveless maxi dress if you live in a hot humid area. I love the color block feature as it adds a little more color and style to the dress.
With this dress you can dress it up or leave it as is for the perfect baby shower outfit for mom to be.
This dress has super soft and stretchy material to provide you with the ultimate comfort through your entire pregnancy. Best features: stomach ruching, stretchy material, and sleeveless design. 
10.Maternity Dress with Flower Sash 
Looking like the star at your baby shower is every mom's dream. With this next dress, you will be the belle of the ball!
This fancy maternity dress comes with a gorgeous flower sash that will compliment any baby bump.
It adds just the right touch, you will look stunning and beautiful at your baby shower with this dress. Best features: nursing friendly, great for maternity photoshoot, and elegant design. 
11.¾ Sleeves Empire Waist Maxi Dress 
If you are struggling to reach your legs to shave them, it might be beneficial to wear a maxi dress, so you don't have to worry about how your legs look.
Dress it up or down, however you like! This is another great baby shower for mom to be during winter or fall. Best features: ¾ sleeves, multiple colors, and stretchy fabric. 
12.Casual Short Sleeve Mama Dress 
I am all about comfort, even when I want to look nice. If my dress isn't comfortable, I will struggle to wear it, even for a few hours.
This is a super casual short sleeve maternity dress; however, the baby bump's simple floral design and highlight makes it the perfect outfit for any mom to be!
With the short sleeves, you have the ability to add a cute cardigan or leave it as it for a great baby shower outfit. Best features: stretchy fabric, super casual, and short sleeves. 
13.Lace Maternity Gown

This next gown will truly make you look and feel like a princess. It is this absolutely gorgeous full-length lace dress.
It is fitted in all the right places with a beautiful mermaid bottom to help you walk around during your baby shower. This would also make a great pregnancy photoshoot dress as well!
With the seven different colors to choose from, you will find the perfect color to fit your baby shower's theme.
Although it is lace, it is a stretchy lace to fit any and every bump! Best features: maxi dress, mermaid bottom, and stretchy. 
14.Lacy Maternity Dress
Who doesn't love a lace dress? With this next dress you will find an elegant lace top with a flowy bottom for the perfect baby shower outfit!
You will be able to be comfy during your shower but also look stunning at the same time.
The sleeves are a shear lace that will help keep you cool during warmer seasons too! It comes in a jersey fabric for the dress which is so soft and shiny to provide the right amount of elegance to your maternity dress. Best features: knee length, lace, and soft fabric.  
15.Cowl Neck Dress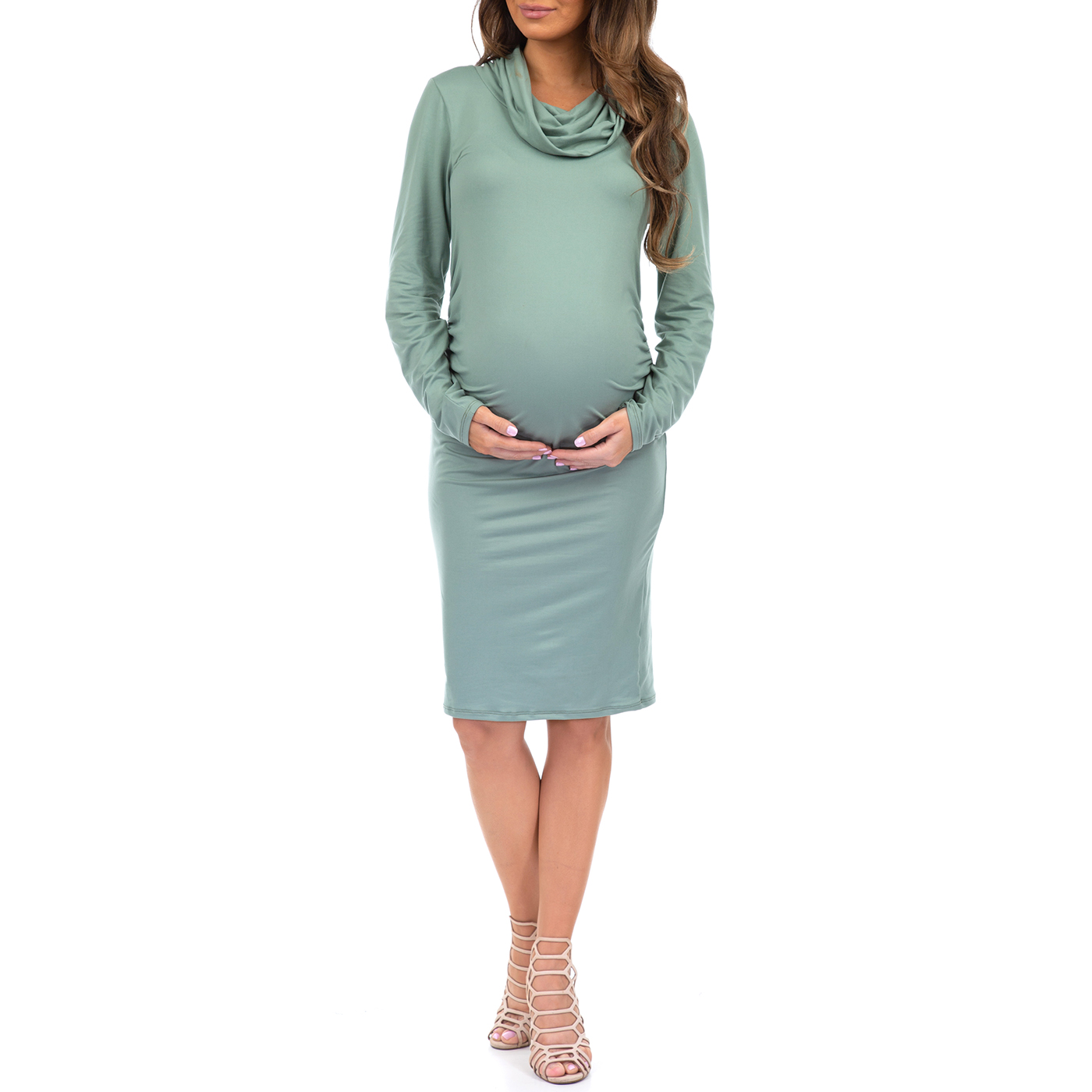 Cowl necks take a normal dress to the next level. It is simple yet so chic it is perfect if you don't want to wear any other accessories!
This would also make the perfect baby shower outfit for mom to be if your baby shower is during winter.
With the cowl neck and long sleeves, you will stay warm all party long. The solid color will bring out your baby bump in a beautiful way.
Stay comfortable and warm during your shower with this cowl neck dress. Best features: comfortable, solid colors, and ribbed siding. 
16.Round Neck Baby Doll Pregnancy Dress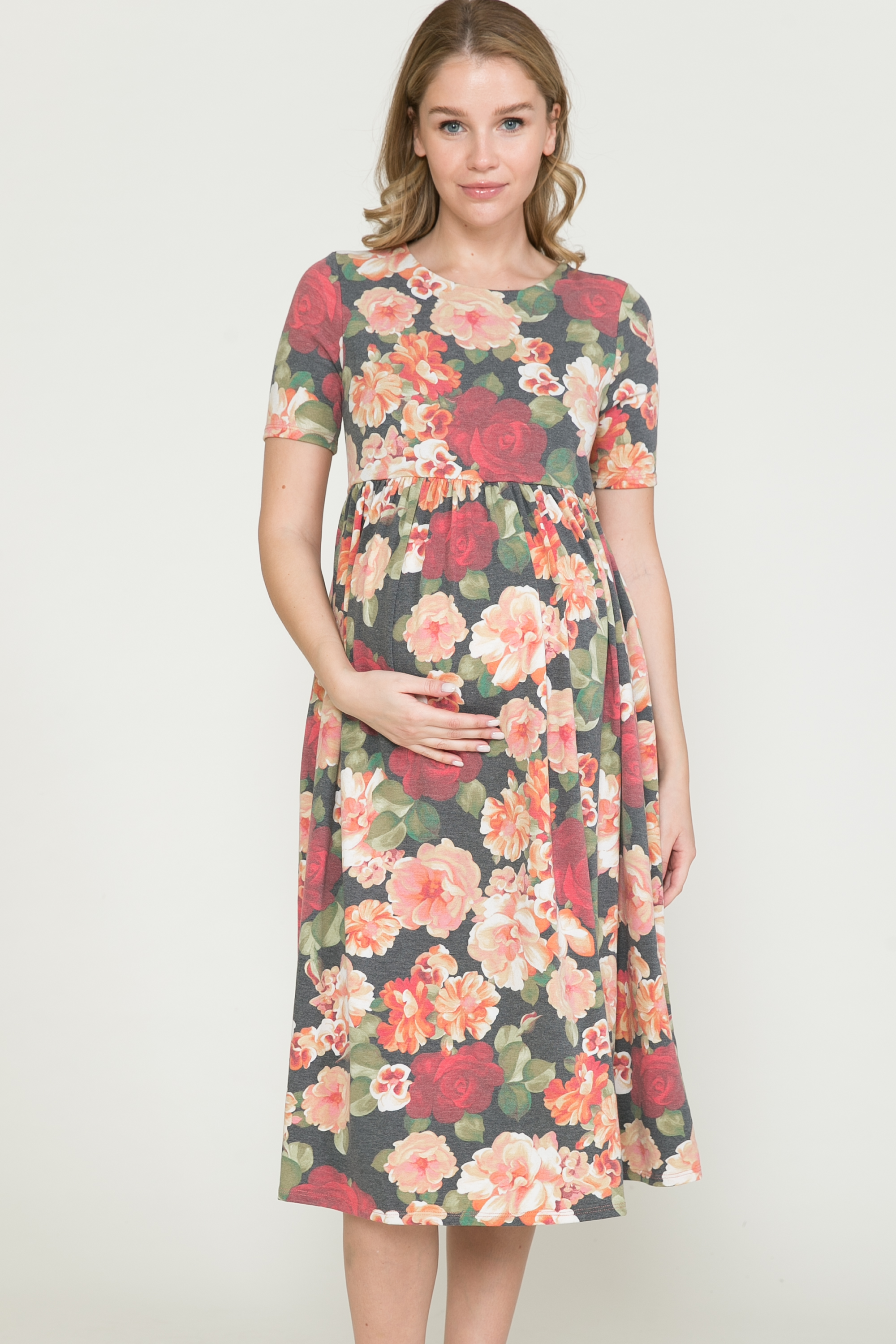 Who doesn't love a simple baby doll dress? Baby doll dresses are simple, feminine, and beautiful on any pregnant mama.
If you aren't a fan of V-necks, this maternity dress will make for the perfect baby shower outfit.
With three different floral patterns to choose from, you will find something that meets your style and comfort with this dress! Best features: knee length dress, high quality fabric, and round neck style. 
17.Velvet Winter Baby Shower Dress
If you are having a baby during the cold season, you will need a warmer outfit for your baby shower. This dress is extremely soft with the velvet fabric which is perfect for keeping you warm!
The velvet is super stretchy to fit your ever-growing baby bump. Each dress is personalized and made with your measurements so it will fit perfectly!
This would be the perfect baby shower outfit that will help you show off your bump and look flawless! Best features: velvet fabric, off the shoulder, and variety of colors. 
18.Bell Sleeve Maternity Dress
Another great option for the cooler seasons is this dreamy bell sleeve maternity dress.
The long sleeves with the bell opening create a beautiful, classy look! It is great for a fall baby shower outfit to keep you warm but also comfortable.
It is made with a super stretchy and soft fabric so you can look elegant and remain comfy throughout your shower. This dress comes in a variety of colors as well. Best features: bell sleeve, soft fabric, and multiple colors. 
19.Lace Maternity Dress
Everyone loves the feel of wearing a beautiful lace dress. This maternity lace dress is so elegant every mama will look stunning with this dress for their baby shower!
From the sweetheart top to the flare bottom this dress is gorgeous and will fit any baby shower theme.
This dress will even fit after you are pregnant and works great for breastfeeding. Best features: nursing friendly, lace, and knee length.
Other Interesting Guides
Happy Shopping!
One of the best memories during a mother's pregnancy is finding the perfect baby shower outfit that makes them feel absolutely beautiful in front of friends and family. Be sure to remember to find outfits that are comfortable and that fit your style.
While there are hundreds of choices for baby shower outfits for mom-to-be, these are our top favorites. Have fun finding one that fits your needs!
My name is Keren Tayler. I am a stay-at-home mama to three lovely girls, Sarah + Rachel + Hannah. Prior to becoming a mom, I had a successful career in the accounting field, steps away from becoming a CPA. I decided to give up on my career in order to raise my own kids (as opposed to letting a nancy do it, no judgment here) I learned a lot and I love sharing it with other moms.  Along the way, I also became a Certified Food Handler.