Celery is probably one of the most problematic veggies that you can stick in a juicer. It sometimes makes it through the process without being juiced and other times, even when it's cut and crushed, it still greedily holds its juice.
If you're looking for an easy way to make a nutritious and delicious beverage from celery, you're not going to want to purchase the first juicer you see since it probably won't do the job.
You'll want to purchase a juicer specifically for celery and other hard-to-juice veggies. We've compiled a list of the 5 best celery juicers we could find. We've also included a handy buyer's guide. This can be a great resource for those who are new to juicing.
Our top pick for the best celery juicer is the Omega Celery Juicer because not only is it compact, but you can have 16 oz of fresh, cold juice in just 5 seconds. 
Top Celery Juicers
| | | | | |
| --- | --- | --- | --- | --- |
| Product | RPMs | Warranty | Speeds | Juice Time |
| Omega Celery Juicer | 80 | 15-years | 3 | 5 seconds |
| AICOK Masticating Celery Juicer | 80 | 2-years | 1 | 5 seconds |
| Aobosi Slow Masticating Juicer | 80 | 3-years | 1 | 5 seconds |
| Hamilton Beach Juicer | N/A | 3-years | 1 | 5 seconds |
| Breville | 7500-13,000 | 1-year | 2 | <5 seconds |
I chose the Omega Celery Juicer as my best overall because it has an extended 15-year warranty, takes just 5 seconds to create a 16 oz cup of juice, and the juice comes out as cold as the product was when it went in.
I love how compact this juicer is compared to other models of the same quality. I found that a lot of the comparable juicers are much larger than this one and fit better on my countertop.
As far as performance is concerned, ultimately I was impressed. The juicer moves at 80 RPM, which you'll be happy to know, doesn't cause any sort of heat-related issues with the juice.
This juicer does save a little bit of time. It's faster than most masticating juicers so you'll have cold juice in a jiffy. I put quite a few different types of products in the juicer such as celery, nuts, and leafy greens, all of which were juiced efficiently.
There's even an automatic pulp ejection function. There are also three adjustable pressure settings and the low speed minimizes heat build-up and oxidation. When you're done juicing, cleaning is a breeze.
I want to say that their 15-year warranty is outstanding! Most juicers only give you 5-years maximum, so you can rest assured knowing this machine is built to last. The only problem I found with this juicer was that it has a smaller chute than other juicers. It's not a huge deal, but you'll just have to cut your produce into smaller pieces before juicing them.
What I Like
Extended 15-year warranty

80 RPM

Pulp comes out very dry

It's smaller than comparable models

Juices celery and other produce with ease

3 adjustable pressure settings

Easy to clean
What I Didn't Like
It has a smaller chute than other juicers
I have to say that It was a close call between the Aobosi Slow Masticating Juicer and the Omega. It worked wonderfully for celery and carrots, which is something I've never actually experienced, it was either one or the other.
The only thing that sets this juicer apart from the top pick is the price. It's only about ⅓ of the cost. 
Since this is a centrifugal juicer, I immediately noticed a sound difference when the machine was in use. It produced super dry pulp and only created 60 decibels of noise.
Masticating juicers tend to be quieter than centrifugal juicers and this was certainly the case. It was pleasant to use, even within close proximity of it.
It runs at 80 RPM just like the Omega, so you'll have a nice cold cup of pulp-free juice in under 5 seconds without any sort of heat degradation. Additionally, I found that since the auger spins at such a low rate, I got 20% more juice than faster spinning machines.
My favorite feature on the Aobosi juicer was the reverse function. It was extremely helpful in the event that any of the veggies or fruits got stuck.
Not only that but there's a pretty near safety lock design that allowed me to take apart and assemble the machine in just 2 minutes. All parts are detachable and made from food-grade anti-oxidation materials. I was able to place the parts in the dishwasher for easy cleaning. The biggest issue with the machine I had was the narrow chute, but it's not a major concern of mine.
It wasn't one of my absolute favorite machines, but it got the job done as far as I'm concerned.
What sets this juicer apart from the others is that it has a wider chute, so you don't have to cut the produce up as small. Unfortunately, it's still small compared to the chutes on some of the centrifugal juicers. 
As with the other juicers, this one spins at 80 RPM, so your juice won't warm up while being extracted. 80 RPMs is quicker than some masticating juicers, giving you juice in about 5 seconds. It's also super quiet, operating at just under 60 decibels. 
I can't say that I was impressed by its efficiency. I found that I had to occasionally run the pulp through twice to obtain maximum dryness. This isn't ideal for those who want to juice celery, but if you don't mind taking the extra time as I do, then it shouldn't be much of an issue. Fortunately, the machine comes with a respectable 3-year warranty. Pair that with the price and you've got an overall decent machine.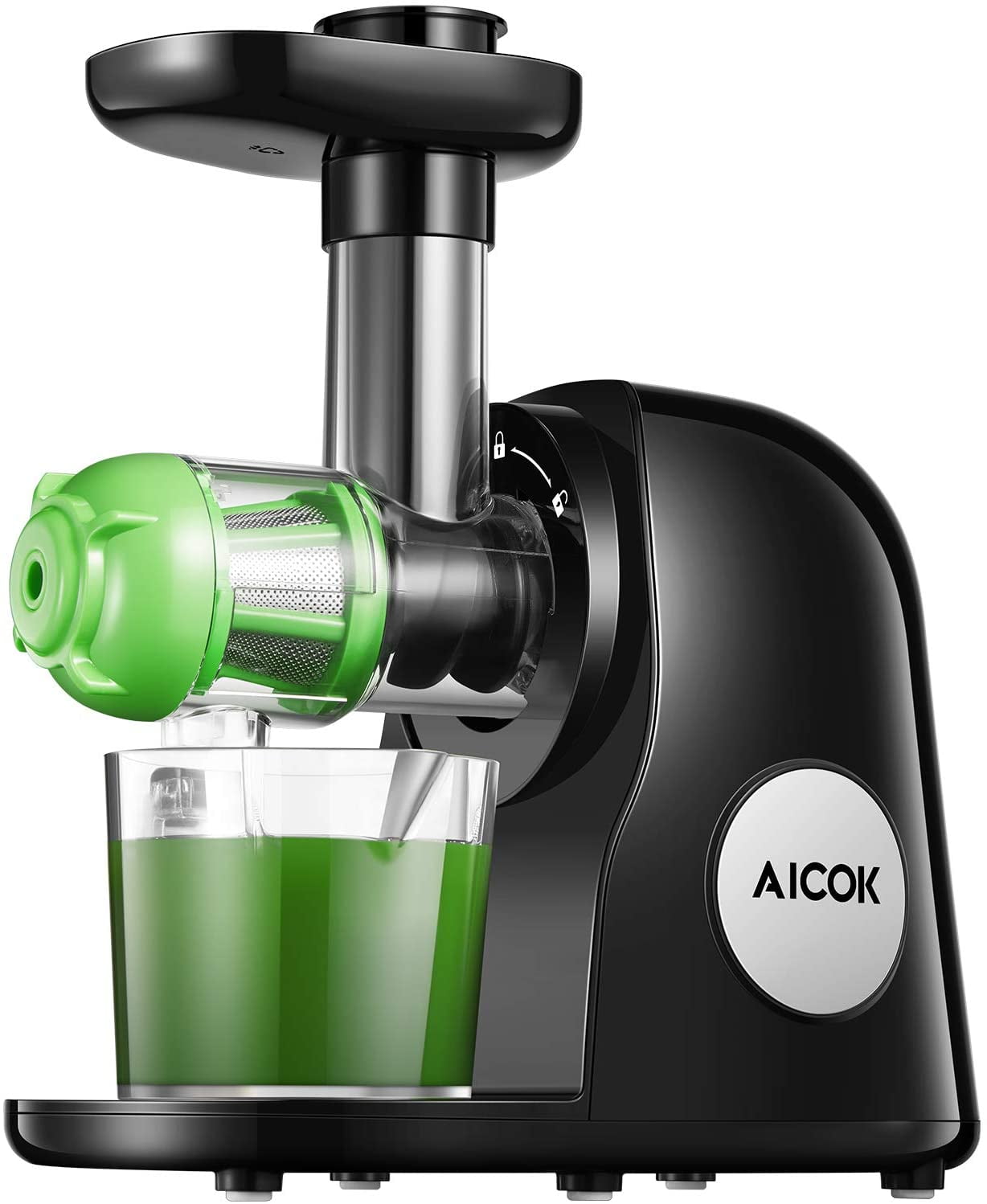 I love Hamilton Beach products, not only because they're affordable, but they're user-friendly.
This particular juicer from Hamilton Beach is one of the easiest to clean that I've come across. Some juicers make it impossible to clean the strainer, but this machine comes with a strainer cleaning brush and the other pieces are dishwasher safe. 
The extra-large 3-inch Big Mouth chute on the juicer let me add whole produce without the need to cut them up first.
This reduced the time I spent in the kitchen and improved the time I spent enjoying my drink. The 800-watt motor is quiet compared to similar models. 
Even though I loved using this juicer for celery and other produce, I kind of struggled to obtain juice from juicier produce like cucumbers without getting a lot of pulp in my juice. Additionally, there was a lot of pulp left over when I juiced in larger quantities. I found that these issues were common for juicers in this low price range.
One of my favorite juicers for ginger and celery is the Breville Cold Juicer. It has an amazing cold spin technology component that keeps produce cool to preserve nutrients better by minimizing the amount of temperature gained while juicing.
There are also 2 variable speeds that allow me to control how my juicing is done. I can choose between 7500 RPM to 13,000 RPM.  
I like the storage container that comes with the juicer. It can store 70-ounces of juice and can be put in the refrigerator for three days at the most.
You can pour the juice in a cup right from the storage container. I thought that the 3" feed chute worked great for placing whole fruits and veggies in the juicer without first needing to be cut. 
Even though I loved just about everything that this juicer could do, I just wasn't a fan of the juice that was left on the table after each use. Also, there's a lot of leftover pulp that's still hydrated.
I wouldn't expect to see this from such a high-end machine. Simply put, this means that you aren't getting absolutely all of the juice you can from the juicer. 
What I Like
Low heat distribution

Two speed settings

Juice extracted in a matter of seconds

Easy to clean interface

70 oz store and pour container

Compact enough to save counter space
What I Don't Like
The 1-year warranty is lower than most comparable machines

Pulp is more hydrated than I'd like

Leaves behind some juice on the counter
We Thought You Would Like
What Is Medical Medium Juicing?
Celery juice has been known to provide strong healing benefits. When it's consumed properly, it's a powerful healing remedy and people all over the world are noticing its benefits. It has been shown to provide clearer skin, improved digestion, mental clarity, weight loss, stable moods, less bloating, and more.
Just by drinking plain celery juice as part of medical medium juicing, people seem to be healing from various acute and chronic illnesses such as eczema, psoriasis, acne, blood sugar issues, gout, allergies, and more. Not only that, but it improved methylation, which is the proper absorption and utilization of hundreds of nutrients, such as zinc and B12.
The way it works is quite simple. All you have to do is get yourself a good juicer and make 16 oz of celery juice. You then drink it on an empty stomach to restore your health. If you drink it on an empty stomach first thing in the morning, it can help strengthen the digestion of foods you eat for the remainder of the day.
Can Other Produce Be Added?
Celery juice is the most beneficial when you drink it alone, but if you think that the taste of straight celery juice is too potent, you can add the juice of one cucumber or one apple with it. This is a good option if you are just getting used to the celery juice. The more you drink it, the fewer fillers you add. Increase the ratio of celery until you're used to the taste. Leave out lemon, lime, ice, or any other added ingredients.
Is Eating Whole Celery The Same Thing?
No, it's not. Eating whole celery stalks may be healthy, but it's not the same as drinking pure celery juice. When celery is juiced, the pulp is removed and the healing benefits become stronger and bioavailable. You'll also consume more celery when it's just juice when you would by eating it.
Why Is Celery Juice Good For You?
Celery juice is nutrient-rich and drinking it has its health benefits. While some speculate whether or not it can cure conditions such as cancer, thyroid issues, acne, and more, it's not exactly proven. So, now you may be wondering which claims are false and which are backed by science. Let's take a look!
Hydration
Celery juice is mostly water and can keep you hydrated. Hydration is crucial for your body, but a lot of people aren't getting their daily recommended intake of water. Proper hydration helps manage body temperature, blood pressure, nutrient delivery, waste excretion, kidney health, and brain function.
Low Sugar
Celery juice is a healthy alternative to sugary drinks. Just one cup of celery juice provides 5 grams of naturally occurring sugar. On the other hand, sugar-sweetened drinks like soda account for up to 50% of added sugar. Depending on your intake of sugary drinks, it can add an extra 500 calories to your daily intake.
Anti-Inflammatory Properties
Celery juice is rich in phytonutrients, which can reduce inflammation. These compounds act as antioxidants and help with the reduction of oxidative stress. This stress occurs when unstable molecules accumulate in your body. These unstable molecules are called free radicals. Diets that are rich in antioxidants are linked to lower rates of heart disease, diabetes, certain cancers, and obesity. Additionally, they also boost skin health.
Gut Help
Celery juice is good for the gut in several ways. First, it contains beneficial plant compounds called luteolin and pyrroloquinoline quinone. These two compounds are thought to reduce inflammation in the gut. Additionally, luteolin is also found in a variety of fruits and vegetables such as broccoli, peppers, spinach, green tea, papaya, and tofu.
Additionally, unstrained juice provides fiber. Fiber is the key to a healthy gut, so strained juice is less beneficial to your digestive health. To get the most gut health benefits, don't strain your juice.
It's important to note that celery juice isn't for everybody. Those with IBS may not tolerate celery juice. This is due to the high content of fermentable starches known as FODMAPs. It can cause bloating and discomfort when consumed and digested.
False Claims
Here's where the false claims come in. Celery juice has certainly self-proclaimed health expert Anthony Williams, a self-proclaimed health expert who has absolutely no background in nutrition or medicine.
He claimed that celery juice is a cure-all that heals chronic illnesses with undiscovered cluster sales. There is no evidence of these salts. Moreover, little evidence exists of its effects on acne, liver disease, weight loss, and diabetes. There's also no evidence of celery juice detoxifying your body.
Do You Need A Juicer To Make Celery Juice?
If I'm being honest here, you don't need a juicer to make celery juice.
However, the process is more lengthy and you won't receive all of the benefits that you would with juice from a juicer.
With a blender, you have to roughly chop the celery and place it in a blender with water and puree it into juice. You then have to pass the juice through a fine-mesh sleeve or a nut milk bag to strain the pulp.
When you do it this way, the pulp isn't squeezed as well as with the juicer and a lot of the liquid nutrients are being discarded.
When you use a juicer, the machine does all of the work for you. It will turn the celery into juice without needing to add water or other additives.
The pulp and other debris are automatically passed through a filter where the rest of the liquid and nutrients are squeezed out.
What Type of Juicer is Best for Celery Juice?
The best type of juicer for celery is a cold press masticating juicer such as the Omega Celery Juicer. Masticating juicers are more gentle with the celery and slowly extract the juice while not producing as much heat as other types of juicers.
This helps preserve as much of the nutrients in your celery as humanly possible while minimizing oxidation. Centrifugal juicers spin fast and use centrifugal force while masticating juicers use a slow turning screw to force the produce against a screen to extract the juice.
Frequently Asked Questions
1. What's The Ideal Amount Of Celery Juice To Receive its Benefits?
16 oz of straight celery juice per day is how much you need to receive its full "healing" benefits. You can increase it to 24 to 32 ounces per day to get the most benefits.
2. How Much Celery Does It Take To Make 16oz of Juice?
One large bunch of celery should make 16 oz.
3. Can I Make Celery Juice In Advance?
To get the most benefits from it, you should drink the juice immediately after juicing. However, if you can't immediately drink it, you can drink it within 24-hours.
4. Do I Need To Cut The Leaves Off The Celery?
If you find the juice to be too bitter, you can certainly cut the leaves off, but most prefer to leave them on. If you don't like the taste of it even with the leaves off, you can add one apple or one cucumber to the mixture and gradually increase the celery ratio after a while.
5. Can I Add Lemon or Lime To The Celery Juice?
Since celery juice works better when on its own, adding other ingredients will dilute its medicinal properties.
6. What Makes Celery Juice so Nutritious?
Just one cup of celery juice contains no more than 5 grams of carbs and almost no fat. It's a great way to quench your thirst, but it's nothing like drinking water. Not only that, but celery contains high amounts of Vitamins C, K, and A as well as natural sodium, iron, and magnesium.
Final Considerations
There's no doubt that freshly extracted juice from a celery juicer offers plenty of nutritional benefits. It's important to remember that not all of the claims regarding celery juice are factual.
There is actually very little evidence suggesting celery juice has as many medical advantages as stated by the self-proclaimed health and nutritional expert.
As stated above, my favorite juicer for celery is the Omega Celery Juicer because it gave me a cold 16oz glass of juice in just about 5 seconds with absolutely no pulp.
It's not loud, it's compact, and it has three speeds, more than all of the others on the list. It's a little expensive but completely worth it with the speed and amount of juice I got.
My name is Keren Tayler. I am a stay-at-home mama to three lovely girls, Sarah + Rachel + Hannah. Prior to becoming a mom, I had a successful career in the accounting field, steps away from becoming a CPA. I decided to give up on my career in order to raise my own kids (as opposed to letting a nanny do it, no judgment here :)) I learned a lot and I love sharing it with other moms.  Along the way, I also became a Certified Food Handler.