As moms, we absolutely love dressing our little bundles of joy in cute outfits! I swear, shopping for clothes is probably one of the best parts of being a parent.
I'll admit it – there are times when I wish I found my son's clothes in my size! And guess what? Thanks to the popularity of "twinning" with your kids these days, mom and baby matching outfits totally exist!
I've compiled a list of absolutely adorable mom and baby matching outfits for you and your sweet baby! No, these aren't just for boy moms! There are plenty of options for mommas and their little girl, too! Check them out below!
Mom And Baby Matching Outfits
1. Funny T-Shirt: OK BUT FIRST MILK
We love being mommas, don't we! But, we all know it can be well…exhausting. This shirt and onesie combo say it all – little one wants milk, momma needs coffee.
This shirt from Amazon helps you keep little one happy, with an easy, convenient slit for breastfeeding built into the sides. Plus, what momma doesn't want a fun shirt to wear with their cutie?
Best Features: Easy changing features, breastfeeding-friendly design.
2. Tie-Dye Lounging Sets
There is nothing better than spending a lazy day at home with your cutie pie! For a momma just trying to relax, these sapphire blue leggings from Old Navy provide the perfect stretch and give for postpartum comfort – and they hold their shape well enough to keep wearing them after you've lost the baby bump!
Don't forget to check out the adorable 3-piece set for your little one! It comes with a cute hat to keep the cutie warm and perfectly matches your tye-die threads.
Best Features: Postpartum-friendly waistband, multiple matching outfit options.
3. Mama's Mini
Every momma loves a t-shirt and jeans kind of day. Your little one will grow to love them too! Pair this soft t-shirt and onesie duo with a cool pair of sunshades for you and baby matching white sneakers, and jeans and you're ready for a day of fun!
This ensemble found on Amazon is perfect for a summer day, Fall apple picking, and just lazing around at home.
Best Features: Customizable shirt and font color.
4. Charged and Low Battery Pair
Being a mom is the best job in the world. We have amazing benefits, like baby snuggles and smiles, and the cutest assistants out there. But, mom life can be a bit draining. There's nothing wrong with admitting it! All moms feel the drain – and this shirt and onesie pair found at Amazon works perfectly to express that!
The printed battery-level images last forever and don't fade with washing. Plus, the cotton onesie has plenty of stretch to it!
Best Features: 100% cotton material, super breathable.
5. Puzzle Piece Shirts
Every child fits perfectly into a special part of every mom's heart. Let this shirt and onesie combo from Amazon reveal that beautiful bond to the world!
The combo comes in four different colors, ranging from purple to black – perfect for your little boy or girl and their momma.
The soft material creates a flattering silhouette for you, and the overlapping shoulders on the onesie make changing outfits a breeze for the baby.
Don't worry about color fade, either, the printed design outlasts a dozen machine washes (though, it will last longer in a cold cycle.)
Best Features: Pre-shrunk fabric; super soft combed ringspun cotton.
6. Battery Recharge Pajamas
If you liked the battery t-shirts, you'll love this battery-themed jammy set from Amazon. The onesie is perfect for cooler evenings, thanks to the footless design. Don't worry about a difficult time getting baby dressed!
The buttons running along the legs and around the neckline make getting the baby dressed in pajamas fast and easy! Do you have an older toddler or kid in the home too? Does daddy want in on the twinning game? Not a problem, this outfit comes with matching pajamas for the whole family!
Best Features: Daddy and sibling options, easy snap buttons.
Mom and Baby Boy Matching Outfits
7. Dynamic Duo Shirts
Somedays, all you need is a classic white t-shirt. And your little man will look too cool in his jeans and t-shirt. You can choose a bodysuit for your younger babies and select your favorite variation of the wording if you have more than one handsome baby boy at home.
Best Features: Classic look, comfortable, comes with body-suit or t-shirt options.
8. Moon and Stars Shirts
As mommas, we love our babies more than words describe. But, comparing our love to the distance to the moon and back comes close.
And this shirt set at Walmart says it all! These sets come with a onesie option and super-comfortable t-shirts for mommy.
As a bonus, these shirts come from the USA with eco-friendly water-based ink that is safer for your family.
Best Features: Onesie options, well-stitched, eco-friendly print, USA-made.
9. Polka-Dot Slumber Pajamas
If you don't look closely, you could totally pass this dress off as a day dress. But, believe it or not, this is a pajama set perfect for maternity hospital photos or just a comfy night at home.
These super-cute white and grey polka dot sets found on Amazon are popular for their elastic, breastfeeding-friendly design that requires no latches or buttons to feed your baby.
Your baby will stay cozy in the pajama romper that has built-in mittens to keep their hands warm and prevent scratching.
Best Features: Breastfeeding friendly, maternity friendly, and super comfortable.
10. Sleepy Striped Pajamas
Every momma needs a robe, and this set comes with a beautiful navy one! A matching beanie and baby gown are perfect for a warm hospital outfit or just a comfortable night at home.
Plus, your shirt has straps designed for breastfeeding without clips or buttons. The outfits are rayon and spandex, clean up easy, and ridiculously comfortable! Find it fast on Amazon.
Best Features: Breastfeeding built-ins, comes with a robe, and maternity friendly.
11. Make Lemonade Set
Got a big family? This lemon-printed option is for you! You'll find dresses for the girls and cute t-shirts for the boys! The spandex and polyester material stays soft no matter how much you wash it.
There are sizes to fit everyone, ranging from infant to toddler and beyond. Wear this ensemble at Easter, the family BBQ, or a Sunday service!
Best Features: Superb options for dad, mom, big sister, and baby boy!
12. Copycat Cuteness Set
You'll love these funny, clever t-shirts. The ringspun cotton is lightweight and exceptionally breathable! You can choose from orange, grey, white, pink, and a few other colors for your family. The onesie option comes with easy-snap buttons to make dressing and diaper changes a breeze.
Best Features: Tank top option, multiple colors, handmade. Unisex design for babies.
13. Wild One T-Shirt
Babies can have so much energy that things can certainly get a little wild at home. But boy we moms are proud of our little boy's energy, aren't we? This shirt and onesie set is absolutely perfect for the rambunctious baby in your life!
The soft textured material and easy machine washing make mom's life easier while keeping little man comfortable. Celebrate a "wild" birthday party or take some great family photos in these sweet shirts.
Best Features: Tons of size variations for mom and baby; beautiful font and unique design.
14. Taco-Bout T-shirts
Okay, if tacos are as big a deal in your home as they are in mine, these shirt and onesie combos are for you! Daddy and mommy both can get in on the action with a burrito or taco shirt for themselves, and a fun taquito shirt for your little man.
The ensemble comes with multiple color and size options, ranging from green, blue, and red. Snap some adorable family pics or celebrate Taco Tuesday with this fantastic ensemble!
Best Features: Daddy size options; overlapping shoulders and button snaps for diaper changes.
15. Cool Orange Pants
Looking for an easy way to spice up your outfit while matching your son for a day? Check out these neat linen pants and baby boy shorts combos from Old Navy.
These bottoms add a bit of color to any wardrobe and go great with a white t-shirt for casual matching, or dress shirts for a family get-together.
These machine-washable bottoms are easy to care for, and more importantly, won't fade. What more could you ask for in a pair of cool linen pants?
Best Features: Stretchy waistlines, soothing linen material.
Mom And Baby Girl Matching Outfits
16. Sweet Linen Stripes
These cool linen ensembles evoke the retro era of the 60s and 70s. The Old Navy brand holds up to its durable name, these machine washable outfits outlast a dozen wash cycles without ruining the delicate pastel shades.
The tie-waist on the pants for you adjust to your waist size and preference, while the onesie jumper features cleverly concealed buttons for diaper changes and dressing and elastic cuffs at the ankles for comfort. This outfit is perfect for a summer day outside!
Best Features: Hidden snaps, cool linen fabric, machine washable.
17. Rainbow Gals Shirts
This shirt is perfect for mommas with a cute mini-me running around the house. If pink isn't your style, white and grey color options are available in this super comfortable matching set of rainbow-inspired t-s!
And, you have the option to go for a bodysuit style for the baby, too. Best Features: Customizable colors, tons of sizes, durable.
18. Stunning Sunflower Dresses
Ah, sunflowers, what's sunnier than that? These super cute matching dresses come with a baby and toddler variation.
The dresses are surprisingly sturdy and well-made, despite their flowy, stretchy fabric. These dresses are perfect for a Sunday picnic or a day at the grandparents!
Best Features: Soft, flowing fabric and multi-age options.
19. Stunning Star Dresses
There's nothing cuter than a matching pair of superstars! This ensemble lets your baby's inner star shine through!
These dresses will clean easily and won't hold stains thanks to their cotton-blend material. They are perfect for Sunday dinner, the 4th of July, and everyday wear.
Best Features: Stunning layers, onesie and baby dress options, lightweight.
20. Sweet Peas In A Pod Dresses
Super soft, breathable, and layer-able, this outfit just keeps getting better and better! The soft gold skirt compliments the black stars perfectly.
Your romper will pair great with a sweater and sneakers or a jean jacket and sandals! For your sweet girl, you can choose a onesie or a matching romper.
Best Features: Handmade, soft shorts, baby and toddler options.
21. Wildflower Delight Shirts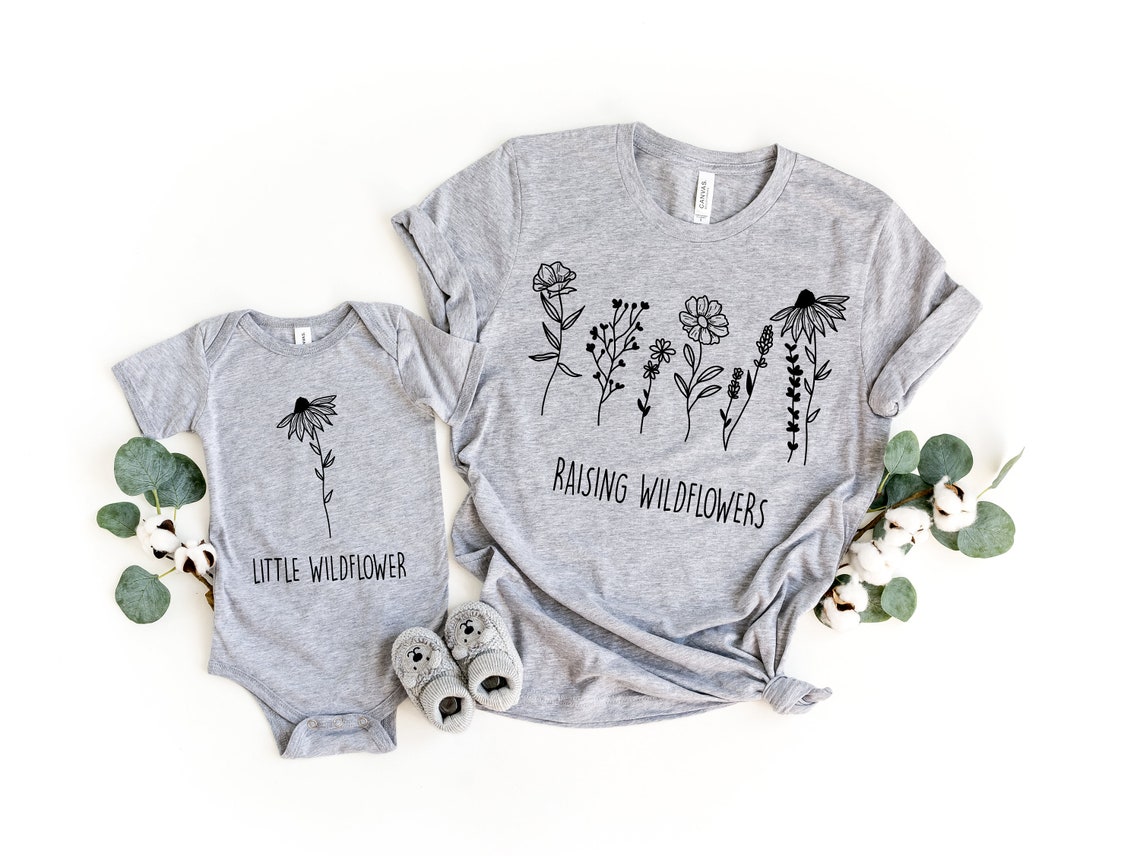 Our babies are as precious as a flower. Let this t-shirt spread that message for you! The heather-spun cotton is soft and handmade for superior quality. You can choose a t-shirt or onesie option for your sweet baby, too!
Best Features: Soft cotton, multiple colors, onesie and toddler shirt options.
22. Counting Blessings Shirts
Every baby is a blessing, and as mommas, we treasure them! These emerald green shirts are perfect for showing just how much of a gift your little one is!
These sturdy stitched shirts are surprisingly soft, well-made, and perfect for all the blessings in your life. Best Features: Sturdy seams, easy washing, soft.
23. Butterfly Pajamas
Let your sweet baby girl drift off with dreams of butterfly wings in this adorable pajama set. This set is a soft polyester-spandex blend that moves with you and your child as you dream.
If your little girl likes to wear pajamas all day, this is an excellent choice for her – the material cleans easily, and the spandex blend will keep her comfortable all day.
Best Features: Flame-resistant, easy snap buttons on the onesie, daddy options too!
Sometimes being a mom is hard work. But we mommas are made tough! This shirt acknowledges our toughness while recognizing our adorable child's sweetness.
You can find onesie options or choose soft t-shirts. This brand uses water-based ink on all their shirts, so you can trust it is safe for your family. Best Features: Onesie options, well-stitched, eco-friendly print, USA-made.
Mom and Baby Matching Outfits for the Hospital
25. Ducky Days Loungewear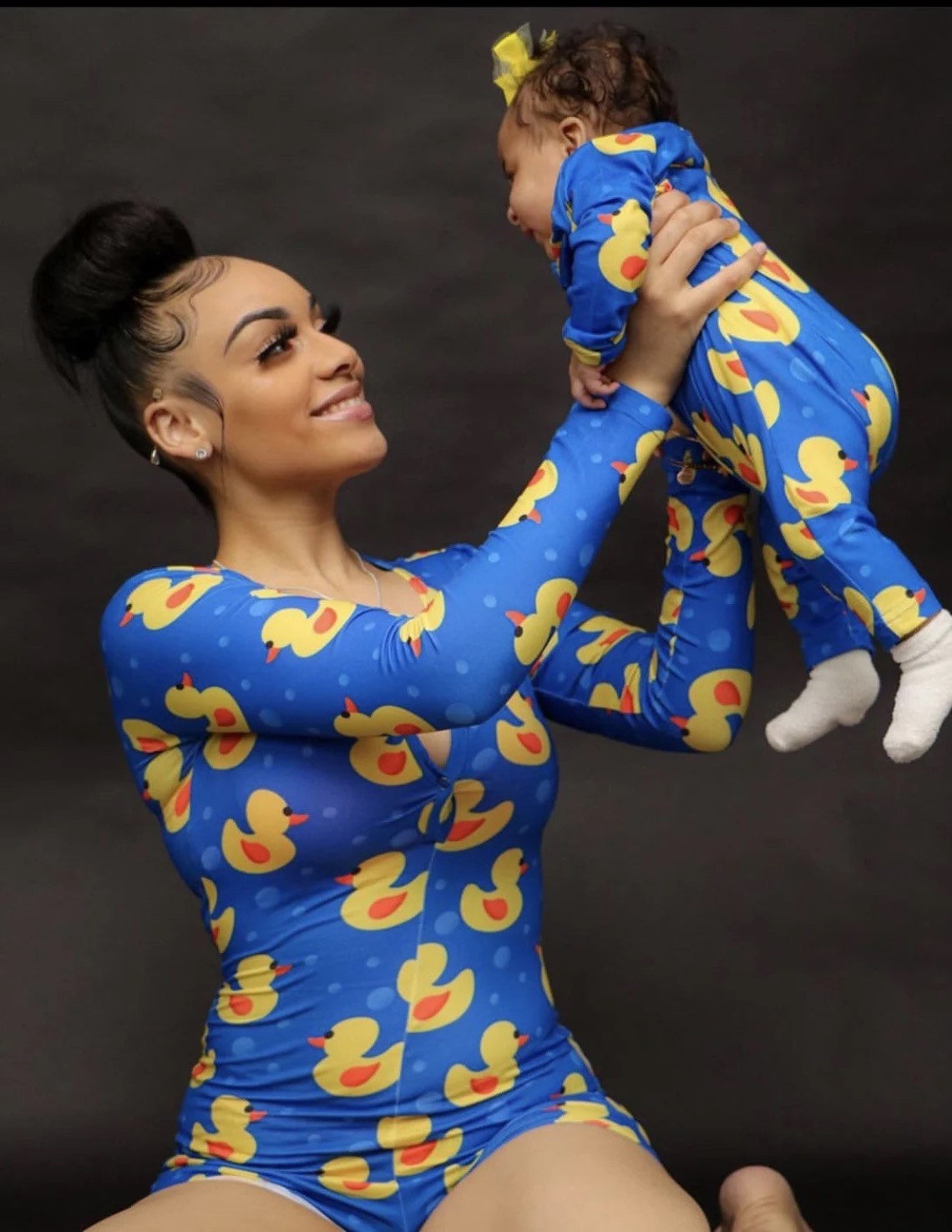 Okay, these ducky pajamas are too cute for words. Stretchy, handmade cotton breathes easily for comfortable nights in bed. You can choose from pajama pants or a nightgown for you and an easy zip footless onesie for the baby. Best Features: Handmade, stretchy, small business supportive, several pajama styles.
26. Rainbow Love Loungewear
This adorable set features three different colors to choose from and a beautiful rainbow pattern for your little one's first outfit. The open gown design makes diaper changes a breeze, while the fabric stretch prevents the gown from losing shape with knotting.
Feel comfortable postpartum in the deliciously soft robe included in your set. Your robe has pockets perfect for keeping your phone or snacks in as you breastfeed your little one.  Best Features: Machine washable, stretchy, postpartum friendly.
27.Gorgeous Prints Loungewear
For a silky, soft postpartum gown, check out this set from Mommy O'Clock. The material is milk silk, casein containing fiber that does the skin wonders.
Your baby will snuggle into the delicate fabric of their swaddle and matching hat. As for momma, you'll luxuriate in the silky robe, which has ample pockets and a handy belt to keep it snug while you feed your newborn.
Best Features: Made of milk silk, multiple colors, and designs to choose from, comes with accessories.
28. Floral Maternity Set
After labor, the only things moms want are rest and time with your little one. Leisure in this ridiculously soft pajama set that keeps you and your newborn comfortable.
The floral shirt features easy-snap buttons for your breastfeeding use, and the elastic waistline adapts to your postpartum body. Keep your baby warm and safe in the matching swaddle and hat combo.
This ensemble is pretty enough for maternity hospital photos, and comfy enough for the long rest you deserve after labor!
Best Features: Breastfeeding-friendly design; machine washable.
29. Moon and Stars Pajama Set
Finding maternity and postpartum-friendly pajama sets is a struggle sometimes. A lot of maternity sets only include a robe or nightgown. If nightgowns aren't necessarily your favorite, consider this pajama set that features a robe, breastfeeding tank top, and stretchy pajama.
You'll find a cute, matching swaddle and hat combination for your newborn with the same moon and stars print as your new jammies. The rayon and spandex material never loses its shape and adapts to your changing body while keeping you and your baby comfortable!
Best Features: Breastfeeding-friendly tank top, three-piece pajamas include a robe and pants.
Easter Mom And Baby Matching Outfits
30. Beautiful Blue And White Sets
Stay comfortable at Easter dinner in this ensemble! These dress and shirt options have sizes for daddy and older siblings too. You can dress them up with accessories like bow ties and headbands or keep it simple with khakis and sandals.
Best Features: Versatile design, soft and light material.
31. Floral Finishes Dresses
For twinning Easter fashion, check out these adorable, lightweight floral dresses. You and your sweet little girl will look great in the matching headbands and dress. You can choose a onesie with a lovely fringe hem or a dress for your little miss.
Best Features: Onesie and gown options, superb construction. 
32. Classic Ruffles Dresses
There's nothing better than an Easter outfit you can reuse over and over! This ensemble includes headbands to add extra cuteness to your look. Your little girl can play all she wants in this dress. It doesn't hold stains and is machine washable.
Best Features: Stretchy fabric, easy washing, matching accessories.
Who says Easter requires formal wear? Why not celebrate with these bunny-tastic t-shirts perfect for your family egg hunt?
These handmade shirts feature professional heat-pressed designs that withstand countless wash cycles and a trip through your dryer.
33. Bunny Business Shirts
Easy care and soft fabric make these shirts perfect for even the most active crawler in your home.
Best Features: Daddy and mommy sizes, easy snaps for dressing, and overlapping shoulders for diaper changes.
34. Bunny Ear Shirts
Easter and bunny ears go hand in hand. Deck out your clan with these adorable pastel or grey t-shirts and onesies perfect for Easter, or just a family who loves bunnies.
The raglan material feels like silk on your and your baby's skin that is absolutely luxurious to the touch!
The vinyl art stays clear and won't chip after several washes. Don't worry about diaper changes, the buttons make them an absolute snap. 
Best Features: Profesional heat-transfer vinyl images, handmade, multiple designs, and size options.
Other Interesting Guides
Happy Shopping!
There's nothing more fun than finding the perfect matching outfit for yourself and your baby!
Keep an eye out for features like fire resistance, machine washable, and of course, comfort as you shop for your little one.
There are hundreds of options out there for your mini-me matching outfits. Have fun searching for the perfect set for you and your sweet baby!
My name is Keren Tayler. I am a stay-at-home mama to three lovely girls, Sarah + Rachel + Hannah. Prior to becoming a mom, I had a successful career in the accounting field, steps away from becoming a CPA. I decided to give up on my career in order to raise my own kids (as opposed to letting a nancy do it, no judgment here) I learned a lot and I love sharing it with other moms.  Along the way, I also became a Certified Food Handler.